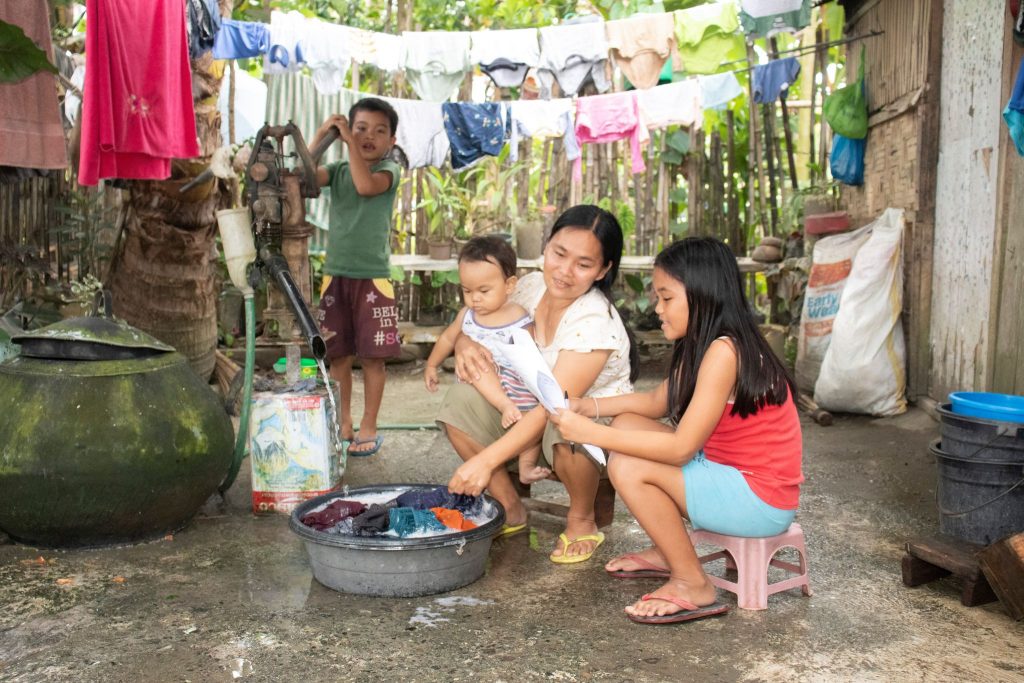 To support her daughter's modular plight this School Year 2020-2021, Ernalyn Gorro, a Lumad mother and a resident of NASA, San Isidro, Davao Oriental, prioritized teaching her Grade IV daughter to ensure that exercises and activities in the module would be answered.
"Lisod ang papel sa usa ka inahan nga sama nako. Daghan buluhaton. Pero dili gyud nako pasagdan akong anak nag-eskuyla," Ernalyn said in a breaking tone of voice but with conviction.
While Ernalyn was washing the family clothes, she was also guiding her daughter who was seriously studying the module.
"Mopasabot gyud ko sa akong anak, labi na ug nay activity nga dili niya masabtan," Ernalyn said.
She shared that a busy mother should never fail to find time teaching her children because it is the quality time that bonds them together.
"Mogahin gyud ug panahon sa pagtudlo sa mga anak bahalag nagkalisod. Tinood nga inahan ko, apan magtutudlo pod ko nila. Ilabi na karon nga pandemya, ako ang ilang teacher," Ernalyn expressed with delight.
Ernalyn's exclusive time with her children was also spent counselling them to strive hard to finish their studies.
"Mahinungdanon sa akoa nga mahuman sa pagtuon ang akong mga anak. Ang ilang kaugmaon maoy akong bahandi," she said.
After tutoring her daughter, Ernalyn had to hang the washed clothes, and then she cooked food for lunch.
The barangay officials and the teaching force of NASA Elementary School also testified about Ernalyn's deep concern for her daughter's education.